Nov
5
The reformation of the process of how things were made changed during the Industrial Revolution. Textile manufacturing, mining, agriculture and more all made changes. Before the Industrial Revolution, textiles were hand spun, during the Revolution though, the invention of the spinning wheel and loom made the production faster and cheaper.
The Water Wheel, used to power the new machinery, as the water wheel turns, pieces in the center of the wheel would be used to power the machines through a sequence of pulleys. This was the main form of power.
The invention of the steam engine drove the Industrial Revolution in the right direction. Inventor Jame Wyatt, changed the way of transportation from people pushing carts around as well as from horse-power to steam power which sped up production in a way no one had seen before.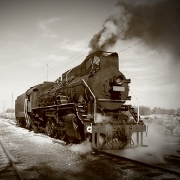 http://www.history.com/topics/industrial-revolution
http://www.livescience.com/2612-steam-engine-changed-world.html
Comments